Investing for beginners: A simplified guide
Investing for beginners
Investing for beginners blog post is written for new investors who want to learn in investing field.
Thinking to invest money somewhere? In stock market or in mutual funds? Whatever the investment mode is, beginner investors must follow some simple investing tips to get good return.
Investment means putting money in something that will generate some return in specific timeframe. Besides money, you can invest your time, efforts, energy in something that will produce money and free time.
so what are some practical tips useful for investing money?
The first step before actually investing money is to fix your investment horizon. By doing so, you will know how much time available with you to achieve your goals. What will drawbacks if you invest without fixing time horizon?
First is you will have no idea how much amount should invested and in which products. Another drawback is you might have to face early withdrawal of invested money if some unplanned expenses occurs.
Second important step is to be cautious with debt. By No loan or reduced loan, your investing potential will increased significantly.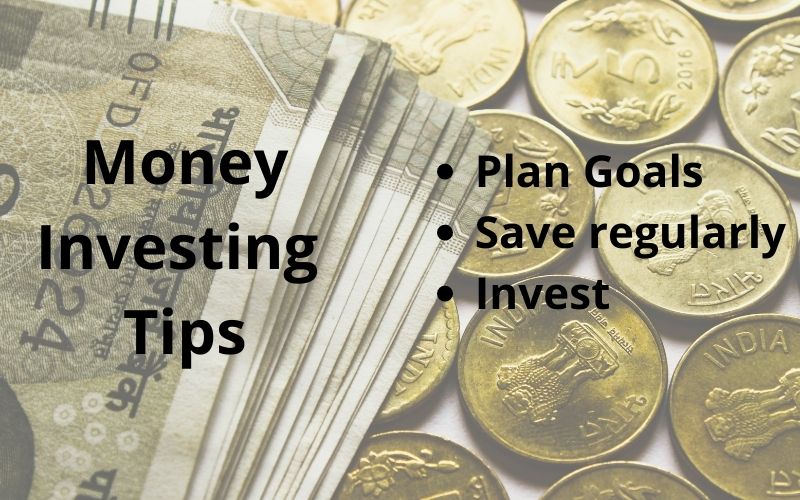 Next tip is about emergency fund. Why it is necessary? Because it is important in case of sudden job change, unexpected expenses and for such other cases. Availability of emergency fund assures an uninterrupted investment.
Now onwards your true journey of investing will start.
Make one investment diary and write monthly investment in that. Maintaining investment diary gives you a clear idea of what amount you can invest each month.
Invest in only those investment options with whom you are somewhat familiar. Don't go for fancy investment option. If you want to invest in unfamiliar investment products first read thoroughly about that products.
Make sure that you invest specific amount each month. This habit of regularity is of prime importance as it is related with one's good financial habits.
Dont try to time the market. Instead be invested for your determined time frame. This habit of standing firm in ups and downs of market will protect you from selling at low in panic situations.
Allocate your entire fund in different asset class such as stocks, mutual funds, bonds, fixed deposits, cash etc. By proper asset allocation, chances of good return will high in any market condition.
Review your portfolio at regular interval and with your growing age make suitable changes in asset classes. While selecting stocks, you have to select large cap, mid cap and small cap stocks in balanced proportion to get maximum return and as possible as low volatility..
By keeping these simple guidelines, your investment plan will become more realistic and effective.
Happy investing..
You may like: How to save money